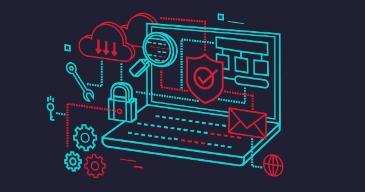 As the level of technology we're exposed to becomes more and more advanced, it's only natural that the level of threats rises to the challenge. Any business that aims to reach the top of its field will, in some way or another, need adapt to utilize the benefits of all the technology we have at our disposal in order to drive things forward. But this means implementing a multi-faceted system or approach to dealing with security problems and the general safety of the organization.
Unfortunately, small to medium businesses sometimes make the often mistake of only using one or two approaches to secure the businesses safety.
While there are many measures you can take to prevent cyber threats, here are a few tried and true tips to get you on your way to securing your organization today and preparing for prosperity tomorrow.
Prevention is the cure
We all know the saying, 'prevention is usually the best cure', and cybersecurity is no exception. Protecting your online data and having a solid preventative plan with regular support in place puts you in a much stronger position than if you have to frantically fix problems that could have been prepared for (downtime is one of the biggest hits of a cyber attack) with a few preventative practices.
Separate personal from professional
Make sure your emails, personal data and banking details are completely separate from your business. This is often one of the most overlooked mistakes because it's painfully simple to let it happen. However, mixing up your professional and personal accounts can lead to a disaster, especially when you need to filter your emails from spam. Not only will this make you more productive, but anyone who gains access into your personal accounts will be right in there with your work accounts. Be sure to encrypt your data as an added level of security.
Keep on top of your hardware
Regularly updating and maintaining your hardware is essential to the integrity of a professional network.
Recovering from any kind of invasion to your businesses networks can be made extremely frustrating if you have a lot of downtime because your hardware isn't up to scratch. Get a steady firewall in place to properly enforce your security measures and prevent outside intruders from tampering with your systems and accessing sensitive data.
Another useful feature of having a firewall is that it has control over what websites and programs are accessible from within your company. If you want to stop unsecured websites from being accessed from within your network, it's time to look into the different types that will work for your business. To truly keep on top of your hardware, however, it's worth knowing how to manage your own firewall.
Network assessment
A network assessment is absolutely crucial for reviewing the IT infrastructure of your organization and identifying areas and opportunities to improve your existing system. If you're wondering why you need a network assessment, it can be particularly helpful when you're aware that there's some problem within your network but you're not sure where it could be coming from. During this time, it can step in for a thorough sweep of all your components and will pull up any areas for concern, something that simply wouldn't be possible without an assessment.
Risk assessment
Every business needs to perform a risk assessment annually, at the very least. Risk management processes help you to document and assess the risks your organization faces. There isn't really a way to identify your organization's problems without running periodical risk assessments. After the issues have been raised, they can then be ranked in order of risk so you can begin to allocate the appropriate resources to minimize them.

Limit the data access
It's no longer the case that all employees have access to everything on company computers. It's also common to look outward when there's been a network breach but it's easy to turn a blind eye toward what's happening within your company. Limit the access to your sensitive data as much as you can so you can narrow the number of employees who might accidentally open a harmful link, for example.
Data breaches aren't always sophisticated attacks from professional hackers but often due to basic employee breaches. It's best that employees are only allowed access into the data necessary for them to perform their jobs. Otherwise, you're simply opening your data up to be tried and tested.
Train employees on security awareness
Surveys consistently show that employees are often the weakest link as far as data security is concerned. People in your team are probably opening suspicious emails every week and employers often make the mistake of thinking that one training session on data security is enough. It isn't! If you're genuinely concerned and serious about keeping on top of your data's security, you should arrange training sessions on security best practices every quarter (or at a frequency that works for you).
Be prepared with a solid disaster recovery plan
After any kind of attack, a solid disaster recovery plan should be your first order of business and can often be the difference between another catastrophe and your organization's survival, if it's well planned and within good timing. You might not be able to stop disasters from happening, but you can definitely be ready with a strong and remedial plan of action to keep the damage to an absolute minimum. Building a solid disaster recovery plan is a smart and preventive way to keep on top of your security should the worst happen. It's also a good tool for protecting your reputation should your organization ever be subject to a data invasion.
Use an antivirus solution
As with firewalls, there's more than one option for employing antivirus programs and many reasons why you really do need an antivirus solution. Although hardware antivirus programs have multifunction capabilities, they can't always be configured to high-end devices or overly complex networks. Most businesses opt for the more commonly used software solutions as they can withstand the more complicated networks and have a higher configuration level. Of course, the more advanced a solution is, the more difficult it is to set up. If you're comfortable with software setup, this could be the smarter road to go down and if you're not, and you decide that antivirus software suits your business needs better, bring a professional in.
Final thoughts
Keeping your organization safe from outside interference needs a multi-layered plan of action, use of the right tools, and a dedicated team to put the solutions into practice. If you want to have a chat about how we can help you to build a solid data recovery plan, or advise you on what your next steps could be, please contact us.
https://www.redrockis.com/wp-content/uploads/2018/12/whitepaper-placeholder.jpg
192
365
Mindutopia Team
/wp-content/uploads/2019/03/Group-273.png
Mindutopia Team
2018-12-27 23:31:33
2019-04-22 20:48:57
Your guide to keeping your organization safe with technology